TODAY'S PATENT – ENVIRONMENTAL SYSTEM FOR MOTORSPORTS HELMETS
The invention is jointly invented by Todd E. ELAM and Renee J. Elam, the patent was published on 04-10-2012 and the patent was granted on 10th March 2015 by the USPTO with the Patent no. US20120246809A1. The environmental system for motorsports helmets is a full-face helmet equipped with various functions to enhance the wearer's comfort and safety. The helmet meets safety standards and has a forced air ventilation system with an inlet at the lower rear portion, connected to airflow channels inside the helmet.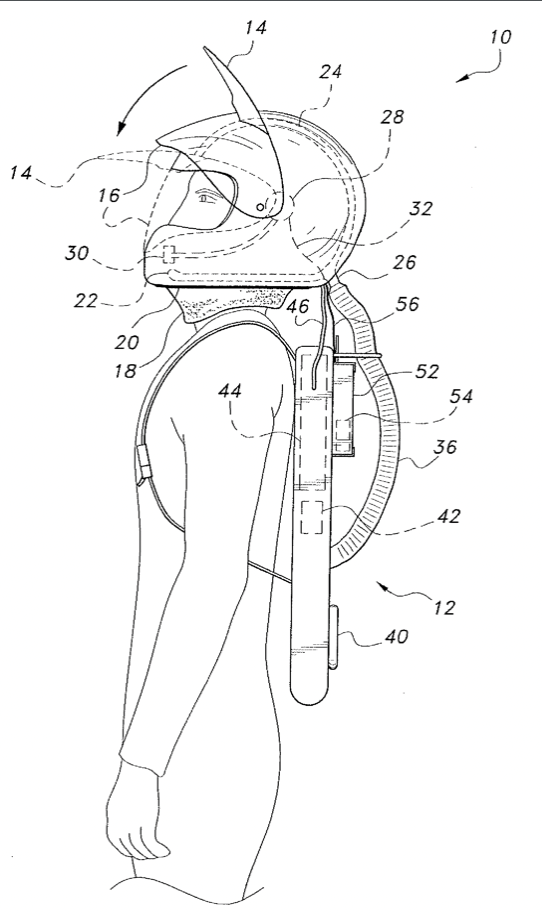 A protective skirt seals around the neck to prevent dust and debris and there is inflow of air from an external source. The helmet also includes a transparent face shield and visor that can be opened or closed together. Additionally, a drinking water tube can be built into the helmet or installed separately, providing controlled water flow for the wearer.
The wearer carries a backpack containing an electrically powered fan drawing air through a filter, a water supply connected to the drinking tube, and a communications transceiver for interaction with others. The backpack features an electrical storage battery to power the fan and transceiver independently from external sources. Overall, the system aims to provide a comfortable and safe experience for motorsports helmet wearers by maintaining proper ventilation, keeping out unwanted particles, and facilitating communication and hydration during use.